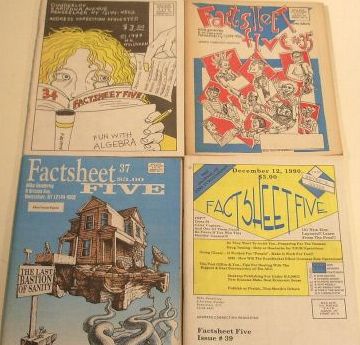 Contact | Comments | Main Links Page

Another cultural barometer, 'zines represent DIY culture at its most basic: get an idea. Write it down. Get it in people's faces. Zines covered here run the gamut from hand-lettered/xeroxed 30 copy-runs to slick off-culture rags that capture my interest. Get reading...


exponentiation - eternal truth.heroism.joy.
fall of autumn - cool zine distro.
grrrlzines - GLBT & GRRRL zines.
magpie - UL based music/art/lit.
mungbeing - music, art, more zines.
not sorry - zines take on anti-fat bias.
stranger danger - DIY records and zines.
sweetpea - more quirky DIY zines.
tukru's zines - Miss Tukru Loves You.
zine scene - LJ blog about zines, the fans and the creators.
zinesters - zine email list.