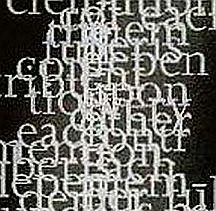 Contact | Comments | Main Links Page

I've become somewhat of a type freak over the years. Of course, most designers know about most of these small foundries, but most people don't realize there is more to life than the Adobe Font Folio. In the spirit of the rest of this site, vis-a-vis the independent nature of the music presented here, I am only presenting links to independently operated foundries. The more commercial foundries are easily accessible and don't need any encouragement from me.


...::[+ism]:... - Say "Plusism." a beautiful series of images.
2Rebels - Favorites: Nunavic, Angry, Proton 182, Yisana.
cool fonts - Interesting display types and packages.
emigre - Zuzanna and Rudy persevere.
face2face - "collaboratorium for turbulent typeface design."
font boy - small foundry, a few fonts. Pick: Armature.
fountain - designs by Peter Bruhn, Sweden. WMBR!
garage fonts - home of RAYGUN 'zine, with 600+ faces.
lunchbox - Faves: Solace, Undertow, Malaise.
psy/ops - Favorites: Phalanx, Plexo, Transaxle Script
shift - Faves: Alien:Grey and Blip.
swifty/typomatic - Offering a small family of typefaces.
t26 - Another small fondry with some delightful fonts.