Crown Heights Affair – Dreaming A Dream
(DeLite Records LP, 1975)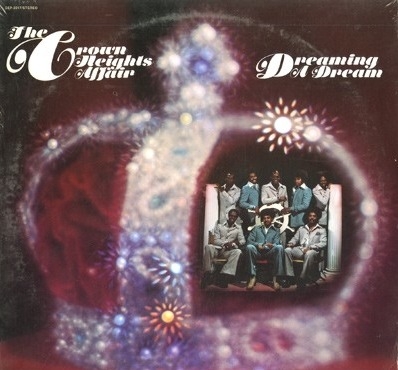 Jukebox Heart #13 is in the works, and the usual delays in getting it done are all at play. That's the beauty of these Daily Screamers – I can keep you whetting your appetite until I'm ready for a new edition of Jukebox Heart.
While you are waiting, I thought I'd tell one of my favorite record collecting stories. It's nothing particularly rare, but it's one of those weird things that all collectors have with particular songs that keep crossing their paths with a weird kind of karma. For me, one of them is The Crown Heights Affair's "Dreaming A Dream". The next phase occurred this week.
I instantly fell in love with this record's title track the moment I heard it the first time. But I'm specifically talking about the vocal track. I was 14 years old, and it was months before the more familiar instrumental track took the disco scene by storm and became a classic of the era. New York City's WBLS was playing the vocal track exclusively, and none of the local record shops in my Brooklyn 'hood were carrying it yet. So I got on the subway and rode all the way up to the 125th Street BMT station to get out and find a record store that had it. Bravery? Some would say naivete, but when I walked into the store and stopped the conversation dead as all eyes fell on this goofy fat white boy who obviously was far away from his Kansas home I knew I was way out of my league. All it took for me to break the ice was to ask for "Dreaming A Dream" and the smiles began to crack one by one and the clerk threw a copy down on the store's sound system. I could go into a whole theory of how a young kid confronted two-way racism and used music to overcome it and set the standard for his entire life, but I've already expounded more on it than is necessary. It *was* a defining moment, however.
Anyway, so the story goes on. I got the record home and shared it with my friends. Two other friends, Sal and Manny, were in this band, also loved the song and got wind of the fact that I scored a copy. They ask to borrow it to learn the song for their band, and I loaned it to them. I never got it back. Eventually, I replaced it with a 45 of Dreaming A Dream, with the vocal track on one side and the more familiar instrumental on the other. By then, "Every Beat of My Heart" was getting some attention as well.
Years later, I tried to paly the 45 and it was so worn out from my horrible old Gerrard that my newer better turntable couldn't even track the grooves. Gone were the days of taping a couple of quarters to the tonearm…
So, I located another copy of the LP. I get it home, and it has these hidden defects in the grooves that make it skip all over the place. Shit. Every copy I'd come across since had similar issues.
This week, I found a copy of a CD reissue of the album. I literally jumped when I found it, and I couldn't wait to get into the truck to pop it in and hear my treasured vocal version.
WTF? First, the CD has additional tracks not on the original LP, a remix of Foxy Lady replaces the original version, the songs are in a different order, and the vocal version of Dreaming A Dream is different. I don't know if the CD version of Dreaming A Dream was the original and edited down for the LP or what, but it has an extra verse, an extra chorus and the order of all the vocal pieces is different. Shit.
But with the miracle of Audacity and a couple of hours of labor, I've yielded a couple of interesting things.
I've always wished for an extended version of Dreaming A Dream, combining both Vocal and instrumental versions. Done.
I restored the vocal version to the version found on the LP.
So, I included all the tracks here for your Obsessive Compulsive enjoyment.
Dreaming A Dream – Jukebox Heart extended mix 2008
Audio clip: Adobe Flash Player (version 9 or above) is required to play this audio clip. Download the latest version here. You also need to have JavaScript enabled in your browser.
Dreaming A Dream – CD version
Audio clip: Adobe Flash Player (version 9 or above) is required to play this audio clip. Download the latest version here. You also need to have JavaScript enabled in your browser.
Dreaming A Dream – Jukebox Heart 45 mix
Audio clip: Adobe Flash Player (version 9 or above) is required to play this audio clip. Download the latest version here. You also need to have JavaScript enabled in your browser.
Dreaming A Dream – Disco Hit!
Audio clip: Adobe Flash Player (version 9 or above) is required to play this audio clip. Download the latest version here. You also need to have JavaScript enabled in your browser.
Evetry Beat of My Heart
Audio clip: Adobe Flash Player (version 9 or above) is required to play this audio clip. Download the latest version here. You also need to have JavaScript enabled in your browser.