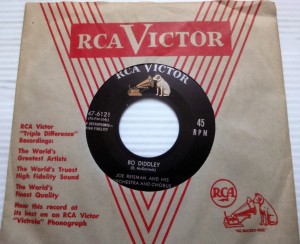 Audio clip: Adobe Flash Player (version 9 or above) is required to play this audio clip. Download the latest version here. You also need to have JavaScript enabled in your browser.
This came in a collection of 45s I recently picked up. If ever there was a "Golden Turkey", it is this. An instant classic.
"Bo Diddley" is a rhythm and blues and rock and roll song first recorded and sung by Bo Diddley at the Universal Recording Studio in Chicago and released on the Chess Records subsidiary, Checker Records in 1955. It became an immediate hit single that stayed on the R&B charts for a total of 18 weeks, 2 of those weeks at #1, and seven more weeks than its flipside (the B-side, "I'm a Man"). It was the first recording to introduce African rhythms into rock and roll directly by using the patted juba beat. It was Bo Diddley's first recording and his first hit single. The song is featured on many of Bo Diddley's compilation albums including His Best.
In 2012 the A and B-side pair were added to the Library of Congress's National Recording Registry list of "culturally, historically, or aesthetically important" American sound recordings.
The song is rhythmically similar to hambone, a technique of dancing and slapping various parts of the body to create a rhythm and song. It is lyrically similar to the traditional lullaby "Hush Little Baby". When Bo Diddley started playing with it, his electric guitar amplified the patted juba with his backup musicians on maracas and drums unifying the rhythm. This combination of rock and roll, African rhythms and sactified guitar chord shouts was a true innovation and is often called a Bo Diddley Beat.
He first titled his version "Uncle John" but before he recorded it, he changed the title to his own nickname Bo Diddly, with an "e" added to the song's title and his professional name by one of the Chess brothers.
Other Cover Versions:
.Buddy Holly: Single by Buddy Holly from the album Reminiscing
B-side "It's Not My Fault" Released 1963. Recorded 1956 and 1962 at Norman Petty Recording Studios in Clovis, New Mexico. Buddy Holly recorded the song in 1956, but it was not released until the LP Reminiscing in 1963 and later became a single release. Buddy Holly on vocals/guitar and Jerry Allison on drums recorded "Bo Diddley" at one of their earliest sessions with producer/engineer Norman Petty at his recording studio in Clovis, New Mexico sometime in 1956. In 1962 Norman Petty overdubbed the demo of "Bo Diddley", as well as others, with the Fireballs.
.The Shadows did a (vocal) cover version on the album Out of the Shadows (1962).
.It was also covered by The Animals in 1964.
.Bob Seger performed the song in a medley with Who Do You Love?, another Bo Diddley song, under the title "Bo Diddley." The original studio recording, backed by Teegarden & Van Winkle, opens Seger's 1972 album Smokin' O.P.'s, and a live version with the Silver Bullet Band appears on his 1976 live album, Live Bullet.
.An energetic version by Janis Joplin is available on the 1999 box set Box of Pearls.
.More recently, steel guitar great Robert Randolph has covered the song at some of his live shows.
.The song was performed by a supergroup consisting of Bo Diddley, Muddy Waters and Little Walter on Super Blues in 1967.
.The Grateful Dead performed it with Bo Diddley himself at the Academy of Music in New York City, March 25, 1972. They went on to perform it by themselves, May 23, 1972 at the Strand Lyceum in London, England, the third to last show in their 1972 European tour. See the officially released Steppin' Out with the Grateful Dead.
And in case you have never heard the original, here it is, played out on youtube on an original 78 RPM from 1955 on the Chess Records subsidiary, Checker Records.