Finally. Hello again.
No excuses. JukeboxHeart.com has been inactive for far too long. We've been barely breathing in the background, maintaining the FM program and little by little redesigning the site to be a bit more user friendly. But you don't care about that. Herewith is our first music entry in many, many months.
I've also been cleaning house at home and have come up with a few choice things to post here in the relaunch of JukeboxHeart.com. I've had numerous requests for the material from this band, so I decided this would be the music to re-open JukeboxHeart.com
The band is The March, and they were active in the mid 1980s in Providence, Rhode Island. They gigged a lot in town at places like The Rocket, The Living Room and AS220. They were dark, decidedly postpunk, and definitely fans of Joy Division with songs patterned after Atrocity Exhibition and Interzone.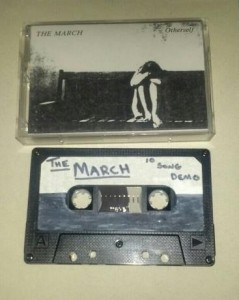 The March – "Otherself" cassette, plus three live performances
Audio clip: Adobe Flash Player (version 9 or above) is required to play this audio clip. Download the latest version here. You also need to have JavaScript enabled in your browser.
The March – Ten Song Demo
Audio clip: Adobe Flash Player (version 9 or above) is required to play this audio clip. Download the latest version here. You also need to have JavaScript enabled in your browser.
I was friends with Eric Moffat, lead guitarist, until he left Providence for San Francisco in search of better musical tidings.
There is little, if any, information remaining about the band. They officially released one cassette, Otherself. But their impact on the live scene cannot be overstated. At the time, I was doing radio at WCUW in Worcester, and Eric ran off a special copy of Otherself for me, which included three live tracks, and that cassette is presented here in its entirety.
Additionally, Eric gave me the 10 Song Demo as shown in the photo, including studio versions of songs they played live. I believe these songs remain unreleased to this day, and even many who saw the band live and knew them in the local scene have never heard these studio versions. The track listing, if it ever existed at all, is long lost.
The mp3's you will listen to have been culled from cassette tapes that are over 25 years old, and as such, have suffered some age degradation. I've restored them as much as possible, but they are still not perfect.
Not subscribed to Jukebox Heart yet? You should! It's easy and it's FREE! Jukebox Heart is also on Facebook, MySpace and Twitter.