In time for Chistmas, at least insofar as Christmas can be aligned with Jukebox Heart, is another installment of Juicebox Heart. Here, Jukebox Heart celebrates the most innovative, strangest, wackiest and sometimes scariest of the children's records we have come across in our travels.
The records featured here are just a few of the magnificent works of the audio – visual design team Jim Copp and Ed Brown. The audio segment featured here is an excerpt of the trials of a fictitious family, The Glups as they travel their way across the lower 48 in an attempt to collect an inheritance. Photos of the albums reveal the ingenious visual design as the record sleeves unfold to form classrooms, magical theaters and, in the case of The Glups, trans-continental and trans-oceanic board games, complete with cutout characters and magic window inserts.
Sometime in the 80s as I was traveling through San Francisco, I had the privilege of meeting Jim Copp while hanging out in the Subterranean Records store, then on Valencia in the Mission. He was bringing a bunch of these beautiful unplayed records, hoping to sell them as remainders. I managed to get copies of the last four records in the series. These records are legendary in their execution and design as well as their ability to stimulate the imagination.
Copp and Brown recorded and released nine albums of stories and songs for children between 1958 and 1971. Jim Copp (1913–1999) wrote all of the stories and songs, and played and recorded all of the music. Ed Brown (died 1978) designed and illustrated all of the duo's album covers. Both men performed the various characters' voices, often with the help of tape manipulation and were among the first to devise and use multi-track recording for children's records. Copp and Brown's work has been compared to that of Lewis Carroll, Edward Lear, Dr. Seuss, and Pee Wee Herman.
Photos and audio tracks are below. And of course, Record Geek history is below the cut.
Audio clip: Adobe Flash Player (version 9 or above) is required to play this audio clip. Download the latest version here. You also need to have JavaScript enabled in your browser.

Selections from
"A Journey to San Francisco with The Glups"
Not subscribed to Jukebox Heart?? You should be!! It's easy and it's FREE! Click here to subscribe now!
As promised, Geek history below the cut!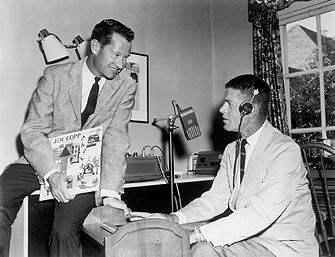 Jim Copp (right) in his home recording studio with Ed Brown,
holding a copy of Jim Copp Tales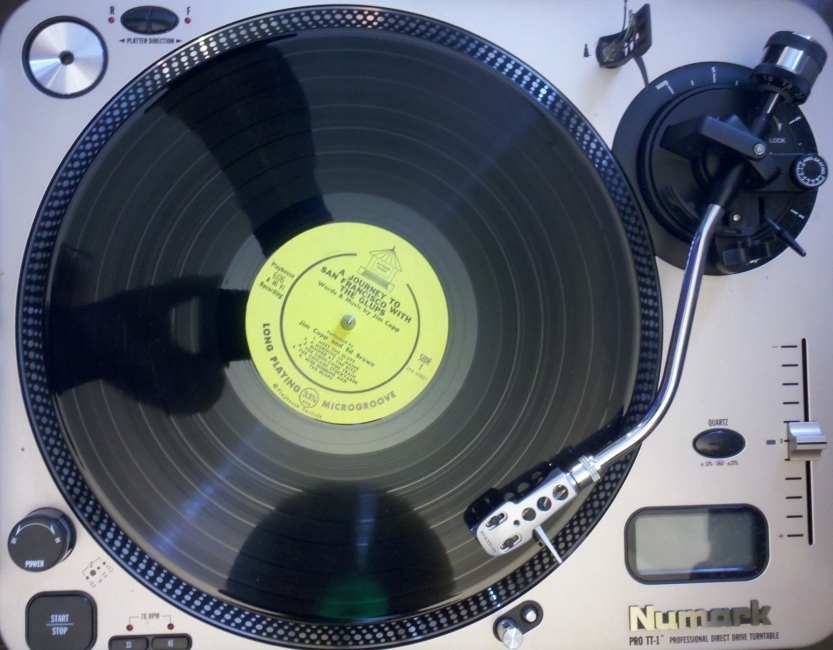 A Journey To San Francisco with The Glups on my turntable.
Jim Copp was born in Los Angeles and spent time in Alabama and Washington D.C. before attending Stanford University and then Harvard. He had a career as a cabaret piano comic in New York City under the name "James Copp the III and His Things", and shared stages with Teddy Wilson, Lena Horne, Art Tatum, Billie Holiday and others. During World War II Copp commanded an intelligence unit in Germany before returning to his career in New York. He soon moved back to Los Angeles where he wrote and illustrated a society column for the L.A. Times.
During the 1950s Copp reworked some of his nightclub routines and recorded them on a wire recorder. He sent sample recordings to Capitol Records. Capitol's executives liked the material, but wanted them to be performed by Jerry Lewis because he was a celebrity and would therefore sell more records. Copp agreed to let them have one story called '"The Noisy Eater", which Capitol had Lewis record and the company issued it on 78 and 45 rpm records. Despite the record's moderate success, Jim Copp was paid very little and so decided to have a go at producing his own material himself.
Jim Copp met the artist Ed Brown at a society party in Los Angeles and the two men began a lifelong friendship. Copp had an idea for a children's album, one that would incorporate his own numerous musical talents with Brown's genius for design. For this first record, Copp played all of the instruments and performed all of the voices, while Brown handled the album's artwork and marketing. The album Jim Copp Tales featured a picture wheel that spun and illustrated each story. Though Copp used the nickname "Jim" instead of his cabaret name, in case the project fell flat, the record received a lot of exposure on radio and TV, as well as bids for exclusive distribution by a chain of West Coast department stores. Copp and Brown soon traveled the U.S., touring to retail outlets with their luggage stuffed with records.
After the success of Jim Copp Tales, Copp and Brown engaged in a laborious routine of annually self-producing albums and releasing them on their own label Playhouse Records. A record's creation began with Copp sitting at home writing songs and stories, while Ed Brown worked on the jacket design at his own house. Copp and Brown would record all of the sound effects, speeches, songs, and stories in segments, often in multiple takes until satisfied with the results. Copp recorded instruments in different rooms at his parents' house: voices were taped in the kitchen, the piano in the living room, the celeste in a bedroom, the pump organ in the bathroom, and sound effects in the bathtub. The entire recording was done with one microphone and three monaural Ampex tape recorders, with which Copp devised his own overdubbing technique by ping-ponging between the tape decks to build up layers of sound. This recording method allowed the duo to create whole classrooms and housefuls of different voices—as many as 90 on a single track.
Many of the records featured innovative layouts that encouraged the participation of young listeners: Schoolmates had shifting pictures on its back cover; Gumdrop Follies popped out into a toy theater play set involving the characters from the various albums; the pair of Glup Family LPs unfolded into boardgames that followed the records' narratives. Copp and Brown's records usually came out in October with the two men supporting the release with a national tour that lasted through the holiday season. Their tours took them to Hawaii and their record sales earned them enough to buy property there.
Copp and Brown stopped making new records in 1971 when Copp's father died and his sister decided to sell the family house. Copp moved in with Ed Brown, whose home was carpeted and deemed unfit for recording. Jim Copp lost interest in making records and sold his recording equipment. Playhouse Records closed its doors when Ed Brown fell ill with pancreatic cancer and died in 1978. It wasn't until Jim Copp was contacted in the early 1990s by videographer/fan Ted Leyhe, that he considered re-releasing the albums. Leyhe and Copp repackaged each of the albums on cassette in 1993 and issued two CDs of some of Copp and Brown's most popular songs and skits. These CDs also contain previously unreleased material and liner notes by Henry Kaiser. Leyhe also produced a documentary video about Jim Copp's life.
Jim Copp died in 1999 at the age of 85. Ted Leyhe continues to run Playhouse Records with his wife Laura.
The Original LPs
Jim Copp Tales (1958)
Fable Forest (1959)
Thimble Corner (1960)
East Of Flumdiddle (1961)
A Fidgetty Frolic (1962)
A Journey To San Francisco With The Glups (1963)
Gumdrop Follies (1965)
Schoolmates (1968)
The Sea Of Glup (1971)
All nine of the original LPs were rereleased on cassette. Jim Copp Tales, Thimble Corner, East Of Flumdiddle, A Fidgetty Frolic, A Journey To San Francisco With The Glups and Schoolmates have been released in their entirety on CD.