With the advent of digital download, print media with accompanying free records, tapes or CDs are becoming increasingly rare. In Hard Copy, Jukebox Heart presents one such print media item and its associated audio. This time, the wonderful Fear Drop magazine.
Based in La Ferriere-sur-Risle, in the north of France, Fear Drop was founded in 1993/1994, and after some rather eclectic beginnings, was quickly devoted to various forms of musical experiments. The majority of these experiments lay in that proverbial gray area between abstraction and figuration, and the magazine's priority evolved such as to seize and preserve these aural passages. Today, the project is articulated mainly around the reflection, description, and the translation of abstract musics. Each issue of the magazine Fear Drop is accompanied by a compilation CD gathering new pieces, the majority of which are composed exclusively for inclusion in Fear Drop.
I first leaned of Fear Drop recently, when a newsletter arrived in my inbox from Touch Records announcing the inclusion of several Touch artists on the CD accompanying the most recent issue, number 15, including BJ Nilsen, Chris Watson, Jana Winderen, and Mike Harding himself. Also included is Black To Comm, whose recent performance at Boston's Gothe Institut was simply fascinating. So I immediately searched for back issues and scored all the way back to issue 7.
Featured here is Issue 14, issued in late 2008, which is an entire issue dedicated to an analysis of The Cure's "Pornography" album, originally issued in 1982. Indeed, the accompanying CD reworks and reconstructs the entire original LP with 8 artists coming together to form a compilation, with each artist interpreting one of the 8 tracks on the original LP. Th resulting tracks were then sequenced as on the original recording. Artists include the diverse mix of Nadja, Savage Republic, Troum, Contagious Orgasm and more. The results are varied and range from the faithful to the completely unfamiliar. Savage Republic provides a very faithful rendition of The Hanging Garden, which, considering the bands heavily percussive bent, makes a good deal of sense. One of the most unpredictable tracks is presented here.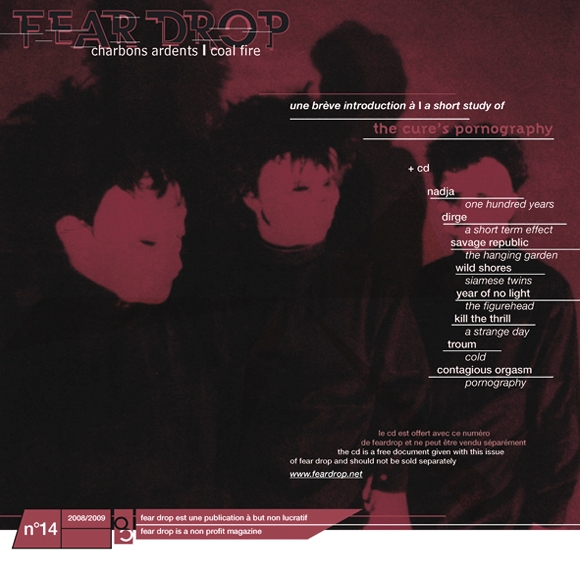 Audio clip: Adobe Flash Player (version 9 or above) is required to play this audio clip. Download the latest version here. You also need to have JavaScript enabled in your browser.
Wild Shades provide a cover of "Siamese Twins", and the results are gripping, engaging and as amusing and unlikely as the Flying Lizards cover of "Summertime Blues". Click on the arrow above to hear the track.
The Cure is one of those bands that everyone who grew up in the last 30 years grew up with. So we all have our periods of The Cure which resonate with us. Perhaps, too, we have a well-defined moment when we realized that we may have outgrown them and moved on to bigger and better things. Of course, one never really outgrows The Cure. Oh sure, we may have our fill of self-indulgent music snobbery that evokes the requisite nasal upturn upon the mention of the band's name. Too pedestrian? Sure, sure. But when those doors close, I'd be willing to bet you have that one guilty pleasure, that one Cure song that no one knows you know about but you that gets your foot tapping where no one can see it, or that makes you cry and blame it on seasonal allergies, or, goddammit, just makes you dance. Period. Sublime moments for me: Seeing The Cure perform Boys Don't Cry to an audience of 30 people in the basement of a Boston University dormitory. Seeing them again years later performing Primary to synchronized out-of-phase strobe lights. And then again, Shake Dog Shake, once again in Boston. But for me, the magic ended with Kiss Me Kiss Me Kiss Me. Even the title made me bristle and blanched my cool all-black wardrobe. Things would just never be the same, even if the album was a little darker than the title suggested. But gone were the dim, foggy days of Faith and Seventeen Seconds, that was certain. Pornography, of course, was a an entirely different affair. I remember playing it in the living room when it was hot off the press, which prompted my then room-mate to urgently enter the room, saying, incredulously, in a tone which ultimately suggested three question marks, "Is This The Cure???" When I nodded, he just said, "OK, now they are starting to frighten me." Porngraphy, was, in fact, their grand opus of the time. Not as accessible as the previous two albums I just mentioned, but certainly more to the point. Robert Smith's hair was getting longer; his eyeliner, darker; his pout; deeper and the cracks in his voice, well, more cracked.
In any case, closet fans of The Cure can now call the date of the release of this issue of Fear Drop their National Coming Out Day. Fear Drop has reclaimed hip street cred for The Cure for their most secretive admirers, and validated those of us who never really cut the strings, even if we pretended to…
To hear the original version of Siamese Twins, as performed by The Cure, click on the arrow below.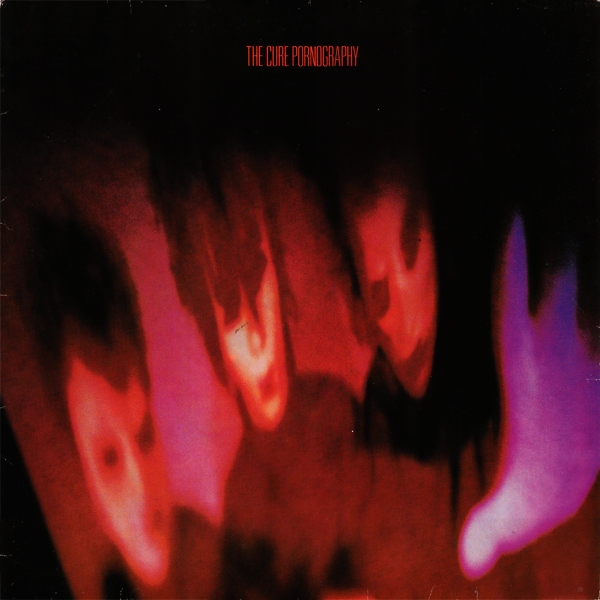 Audio clip: Adobe Flash Player (version 9 or above) is required to play this audio clip. Download the latest version here. You also need to have JavaScript enabled in your browser.
Fear Drop is a non-profit. Please visit Fear Drop and send a little love their way…