On June 26, I had the pleasure and privilege of viewing Craig Colorusso's Sun Boxes installation in the courtyard of Important Records headquarters up in Haverhill, MA.

Detail of Sun Box
A Sun Box is a self-powered loudspeaker, equipped with a solar-panel as its sole source of power. Each Sun Box contains a Single-Board Computer with a chip that emits a single, looped pre-recorded guitar tone of a given duration, as played by Colorusso. In this installation, there were 20 Sun Boxes placed across a field, each with a different guitar loop of a unique tone and duration which, by Colorusso's own calculation, would take about 7 months for all of the boxes to realign at the beginning of their respective loops. Kind of like biorhythms with a fuckin' attitude. What this means is that walking through the field of boxes yields a continually evolving aural experience, subtly different for each listener at any point in the field along any path, even if a listener exactly retraces their steps. The tones emitted by the Sun Boxes combine with the local landscape to create a rich multi-sensory temporal experience. A short video of the experience is below. It was a truly magical experience. Keep track of when and where the Sun Boxes will be deployed next here. ut the immediate future for Sun Boxes:
Sun Boxes in Turners Falls.
9 days 3 locations 20 boxes
Nov. 5-7 Lawn of the Great Falls Discovery Center
Nov. 12-14 Peskeomskut Park,
Nov. 19-21 Lawn at the beginning of the bike path
Craig's music and art spans the better part of his life, from his early work of the early 1990's with his band China Pig through his long, conecptual current projects. After touring the US tirelessly in bands such as China Pig, Olive Grain and Diving Bell, Craig found himself in one too many bars. Although loving music – especially loud distorted guitar driven music – he found himself in a dilemma about the presentation of sound. So the sound installations such as Tagmusik (24 Hour performance in Bethel CT)and Maschine (a composition for instruments and off-set presses) came and the concept was pushed further with CUBEMUSIC and MB 89.
With MB 89, Craig attempts to play a continuous piece of music that spans the greater part of his life. Unlike a composition with a discrete beginning and ending that may be played over and over, MB 89 is a composition played once, continuously; spaces between performances are to be treated as musical rests. Instead of many starts and finishes there is constant music.
According to Colorusso, "MB 89 is not to be merely conceived, written, and performed…It will be an ongoing endeavor for the rest of my life."
The first MB 89 performance was a series of live radio broadcasts on the UMASS radio station WMUA. Mike Burke, WMUA DJ extraordinaire was a neighbor and friend of Craig and so every Thursday in August 1997 MB 89 was broadcasted from Mike Burke's radio show. Since then, the presentation of MB 89 has evolved into a timeless environment for people to enter and exit at will. The concept for this installation is to create a space of subtle movement where people can be part of the environment and absorb MB 89 any way they like. Three Cylinders of metal and fabric will stand in a room, from within the cylinder will be a Bass Clarinet generating a drone with electronics. Lights will accompany the drone. The performance is presented in 4-hour increments and is designed for the audience to come and go as they please.

Detail from MB 89 installation
The details are still sketchy, but this fall should witness the exposition of Colorusso's Time Remap Sessions, a project that re-organizes time, environment and architecture. Eleven short pieces of Colorusso's audio backing visuals by artist David Sanchez Burr. The piece is designed to be in a gallery setting with 11 monitors playing simultaneously as loops. A gallery tour is being planned for the fall 2010.
Below is one of the eleven visuals comprising the Time Remap Sessions installation. A gallery tour is being planned for this fall. A place to definitely be…
Finally, in addition to his work in audio-visual and multimedia projects, he has also released several audio pieces in traditional formats. Below are the two complete tracks from his Strap Parts 10″ vinyl recording.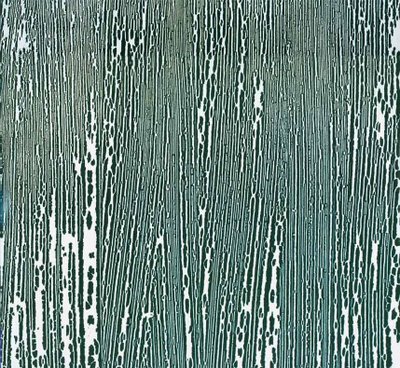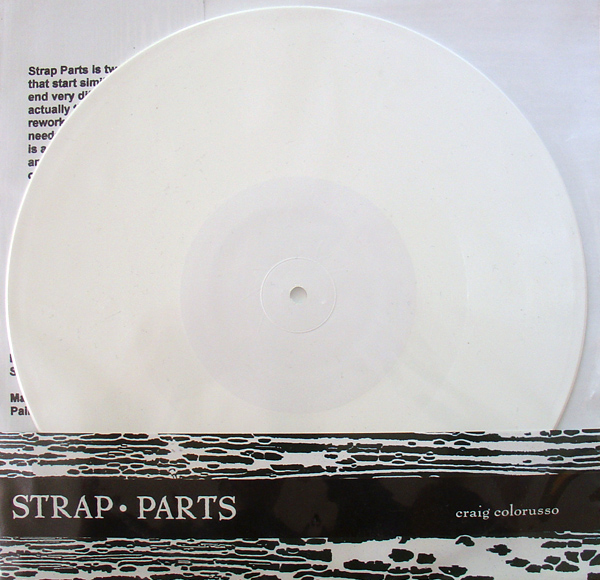 Strap Parts, Part 1
Audio clip: Adobe Flash Player (version 9 or above) is required to play this audio clip. Download the latest version here. You also need to have JavaScript enabled in your browser.
Strap Parts, Part 2
Audio clip: Adobe Flash Player (version 9 or above) is required to play this audio clip. Download the latest version here. You also need to have JavaScript enabled in your browser.
Strap Parts was reviewed in the magazine everyone loves to hate (but secretly loves,
even if it does cost fucking ten dollars an issue now)
The Wire. Issue 260 October 2005:
"Craig Colorusso has been around for a while in all manner of guises, but his newest thing may be his most interesting yet. Strap Parts (Muud 10″) is a set of two solo guitar inventions that begin with the same gentle strokes, then evolve in very different ways. [Strap Parts One] lets feedback build around its gentle curves, concluding in a question more than an answer. [Strap Parts Two] resolves itself a bit differently, lingering over long notes that jet slowly down so much that it almost sounds like mid-period Loren Connors at times. A superior effort."