Live Transmission in Jukebox Heart documents the performances we attend. This entry features Fennesz, in performance at the Middle East in Cambridge on Sptember 20, 2010. Don't miss the videos, below!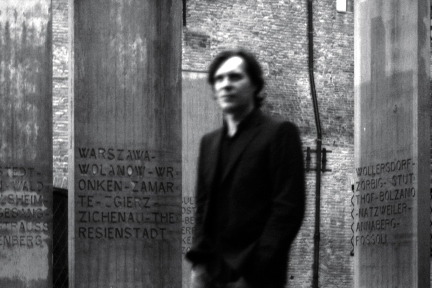 Monday night (20 Septemeber 2010) was a landmark night for Boston, in that Vienna-based electronic composer Christian Fennesz (known simply as Fennesz) performed at the Middle East, in the larger space downstairs. And what a treat it was to witness such a rare performance. OK, so downstairs at the Middle East has become a home-away-from-home over the past couple of decades. But still. It's hard to sync the yin and the yang, the beauty and the brutality, of Fennesz' music – let alone have it wash over you as it is intended – in one of Boston's legendary cellars-by-starlight. The fact that the Middle East in Cambridge has such an open mind in terms of booking artists doesn't necessarily make it the best venue for some of its bookings. No. At the very least, for Fennesz, a large open airy space is optimal, with plenty of room to prostrate oneself under the heavy weight of Fennesz' relentless waves. Believe me…you're gonna need that air. But the floor? At the Middle East? I. Think. Not.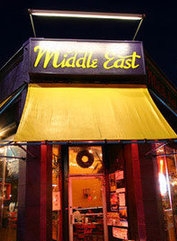 No one I spoke to was able to remember any prior stateside appearance of Fennesz, so the buzz about the show began weeks ago. The posted tour dates suggested a grueling schedule, so there was much speculation on what would be presented. Fennesz appeared with laptop, guitar, and effects. And of this, to maximum effect. I will not draw comparisons to any familiar names or genres, because, frankly, all comparisons that I have read thus far have been so wrong as to be offensive and I likely couldn't do much better myself. (For instance – because your music is laced with fuzzbox effects doesn't make you "influenced by My Bloody Valentine". Seriously, the fuzz is where the similarity ends. And where My Bloody Valentine thrives in glorious confrontation, increasing and increasing until you buckle, Fennesz takes this concept and with it guides you closer to ecstasy than to pain. And because your music is pretty and has a remarkably calming effect doesn't mean "there are parallels to the glacial, synth driven new-age music of the '80s." UGH. Hardly. this reference in particular conjures such an incorrect image as to be laughable. If anything, the calming effect is similar to that of a shock treatment.
Instead, what draws us to Fennesz' music, and, indeed, what has landed him roster positions on some of the most finicky independent labels in the world (Touch and Mego for example), is his ability to defy comparison. He sounds like no one else because no one else has combined the elements he has drawn upon in the way he has composed them. That's really all there is to say.
As loud as is his live presentation, Fennesz manages to capture and preserve the delicate nature of the music documented on his studio recordings. The backbone of his musc – the thick sphere of sound originating in his laptop wrought from layer upon layer of electronically processed electric guitar – is so well crafted that even the loudest portions don't crumble under the threat of compression. Rather, it shimmers in harmony with each solitary pluck of a guitar string. And while his music is delicate, it is certainly not fragile. This performance probably compiled the most intense moments of his music, and the volume added a sense of scale to his work that is almost impossible to achieve in your living room with his recordings. He played continuously for close to 45 minutes, and distinct moments from Venice and Black Sea were vividly identifiable, but it was also a delight to lose oneself in his improvisational passages as well.
I missed the first band, arriving shortly before the second artist, Burning Star Core, began his set. Another laptop artist grinding out stuff since 1998, his performance focused on his violin superimposed on his pre-recorded percussion and other sound sources. BSC's resume reads like a who's who in the noise and improvisational arenas with key recordings on Important, Hospital, RRR, Ultra Eczema, dronedisco and more.
Three videos are here for you, only partially documenting the night. Of course, my handheld vid-cam only captures a small part of the live experience. So come out and join us next time!. The first is the opening passage from Burning Star core's set. The second is a clip from Fennesz' performance. The third is an abstract video I shot in real time from a variety of visual sources at The Middle East while Fennesz was performing his final piece of the evening.
Burning Star Core…

Fennesz Performing at the Middle East…

Fennesz provides the live soundtrck for this real time
abstraction captured during his final piece of the evening…