"LO RECORDINGS PRESENTS 30 GUITAR PIECES BY THURSTON MOORE OF SONIC YOUTH. REMIXED, REMODELLED & RESHAPED FOR YOUR LISTENING PLEASURE."
Thurston Moore, of course, needs no introduction, that is, unless you haven't been paying attention to a variety of alternative music genres for the last, oh, thirty years or so. As a part of Sonic Youth, he funnelled a variety of cultural influences into a musical sound which, since their inception as part of lower Manhattan's No Wave scene, has influenced countless artists for decades.
Originally released in 1998, Thurston Moore's "Root" project inspired 100 artists to rework his short improvisational guitar pieces into finished works. But don't expect this one to sound like Sonic Youth; even still you can rest assured that it's fantastic. The list of experimental musicians ranged from both well known and obscure, and from those works he culled this great compilation which includes dramatically different takes from Alec Empire, Derek Bailey, Stereolab, V/VM, Merzbow, Echo Park, Add N to X, Twisted Science, Blur, Mark Webber (Pulp), Yoko Ono, David Bowie, Angela Bulloch, Russell Mills, Sarah Lucas and Damien Hirst — the contributions are as different as these artists' own works. The selection featured here is by Spring Heel Jack.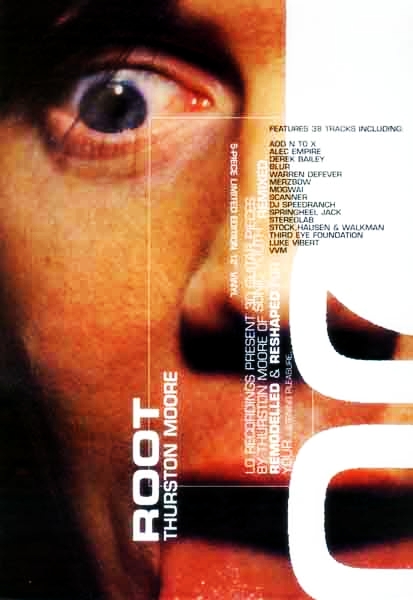 Audio clip: Adobe Flash Player (version 9 or above) is required to play this audio clip. Download the latest version here. You also need to have JavaScript enabled in your browser.

Click the arrow above to hear the Spring Heel Jack reworking.
The 5 LP box set shown here is a compilation of those audio tracks and artworks from the Root exhibition. From the liner notes:
In May 1997 Lo Recordings received a DAT tape containing 30 different one-minute guitar pieces by Thurston Moore. Each piece was copied onto individual tapes and packaged in custom designed vacuum cleaner bags amidst various debris which one had to "root" through to obtain the source tape. One hundred bags were sent out to a selection of visual artists and musicans, inviting them to create a brand new work utilising the original piece as a starting point.
The vinyl version contains 38 of the musical resulting reworkings, and comes in a box with label artwork by Cedric Christie, Joe Ewart, Martin Fletcher, Savage Pencil & Gavin Tork, and also includes a poster featuring a selection of images from the Root exhibition. A special edition of the CD came packaged in one of the vacuum cleaner bags used to distribute the source tapes. (See image below.)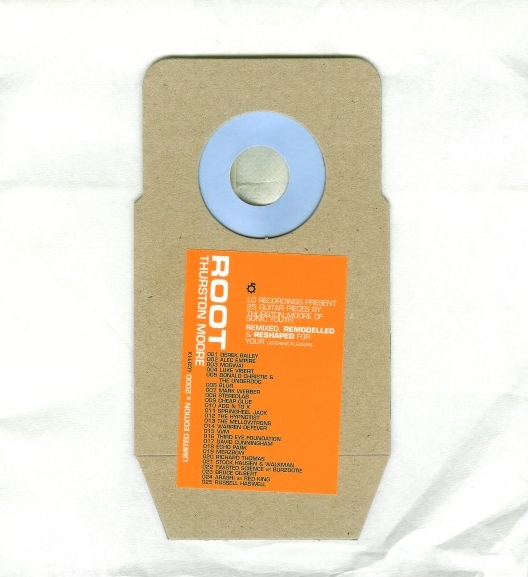 The CD version and the vinyl version both have tracks exclusive to each, making them both necessary for the compulsive collectors among us…