Bananafish is a magazine which was founded in 1987 in San Francisco, California, by "Seymour Glass", focusing on various aspects of underground culture, particularly musical genres such as noise music. The style of the magazine was a mix of interviews, articles, fiction, and music reviews, often written in Glass's absurdist, stream-of-consciousness writing style, which at times bordered on nonsense. "Reviews" were often contextual accounts of a day in the life of Seymour in which the record under review happened to be playing. The text was complemented by bizarre artwork and photographs, frequently unrelated to the articles they accompanied. One trademark of the magazine was its use of appropriated text and images from uncredited or unknown sources, taken from found objects picked up by Glass, other contributors, or readers.
Another regular feature was the inclusion of a compilation 7″ record or CD of music by artists profiled in the corresponding issue. Bananafish is often credited with giving many Americans their first exposure to Japanese noise musicians such as Merzbow and Solmania, as well as domestic noisemakers like Emil Beaulieau.
One of the issues that was published was a sort of twisted tribute to the Carpenters, and the 7″ record, produced by Rrron Lessard's (yes, of Emil Beaulieau fame) well established RRRecords label, and featured several artists covering tunes by our beloved brother/sister duet. The above portrait of Karen and Richard is a special rendering of the duo especially for use on the label of this 7″ record. The image below is the cover of the Bananafish issue that accompanied this record.
Banafish Issue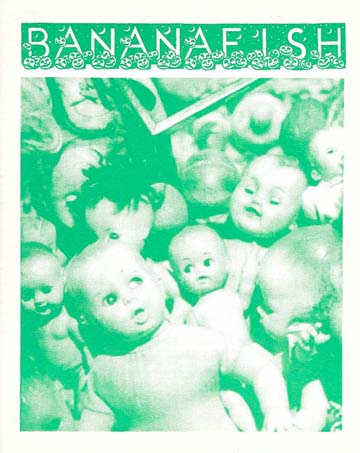 The included single was a twisted tribute to K&R. All the tracks were Carpenters' covers and included such artists as Thinking fellers Union Local 282, World of Pooh and Emil Beaulieau. Included here is World of Pooh's cover of Druscilla Penny, one of the few tracks originally sung by Richard. World of Pooh is one of the stops along the way in Babara Manning's extensive recording career, part of which was covered here in a previous Jukebox Heart installment. This track was culled from the single included with the Carpenters issue of Bananafish.
Click on the arrow below to hear World of Pooh's cover of "Druscilla Penny".
Audio clip: Adobe Flash Player (version 9 or above) is required to play this audio clip. Download the latest version here. You also need to have JavaScript enabled in your browser.
Record included with Banafish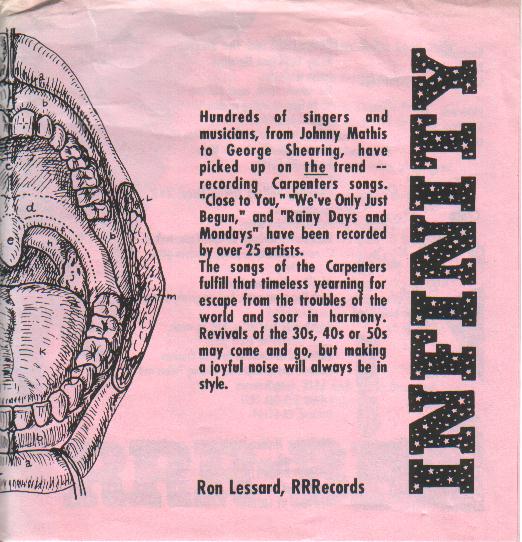 See the track listing below:
A1 Cathy Kidd & Tim Smyth – Rainy Days And Mondays
A2 Thinking Fellers Union Local 282 – Superstar
A3 Piglatin – Hidden Track
B1 Thinking Fellers Union Local 282 – KLTX
B2 World Of Pooh – Druscilla Penny
B3 Lucian Tielens – Sing
B4 Cathy Kidd & Emil Beaulieau – Hurting Each Other