Minny Pops Live, 1980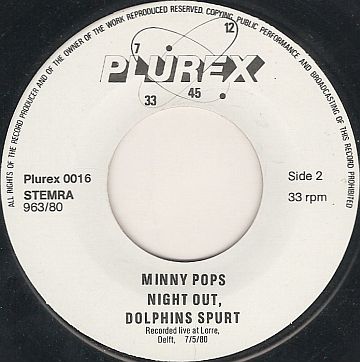 Audio clip: Adobe Flash Player (version 9 or above) is required to play this audio clip. Download the latest version here. You also need to have JavaScript enabled in your browser.
Of all the fascinating bands to emerge from the twinned label stable of Factory and Crepuscule in the post-punk era, Dutch electro pioneers Minny Pops are probably the least understood, and least lauded. Which is a great pity, since much of their output still impresses today as powerful and original experimental music. The creative anchor to Minny Pops was Wally van Middendorp, a key figure in Amsterdam's underground Ultra art movement, and founder of the Plurex label in early 1978. His first single, as Tits, coupled We're Glad Elvis Is Dead with Daddy Is My Pusher (PLUREX 001), and was a fairly typical new wave record, though darkly humorous.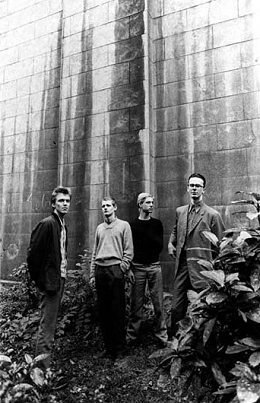 In September of that year Minny Pops were formed as a predominantly electronic band, taking their name from a primitive Korg rhythm box named Mini Pops, and having something in common with Suicide, The Normal and Human League. The first line-up, featuring Wally on vocals and drum machine with bassist Frans Hagenaars, guitarist Peter Mertens and two dancers, including Wally's brother Rob, made their live debut on December 12th at the Brakke Grond in Amsterdam.
The band returned home to play a Dutch tour with The Tapes in May, which resulted in a rush-released Minny Pops Live ep (PLUREX 0016) in June, featuring Night Out, Dolphin's Spurt and Mental, later recorded as Een Kus. In August the group returned to Manchester to record their debut Factory single, and complete a short headlining tour of the north of England in August, taking in Leeds Warehouse, Sheffield Blitz and Manchester Beach Club. The image above is the band in 1979.
There is a scant website for the band. It doesn't have much information, but does provide links to various other sites featuring more about this great and elusive band, including availability of their reissues on Les Temps Modernes, so check it out!
Not subscribed to Jukebox Heart yet? You should! It's Easy and It's FREE! Jukebox Heart is also on Facebook and MySpace.