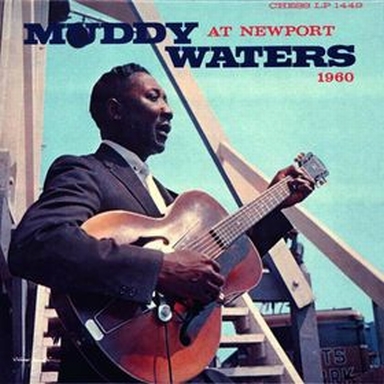 Audio clip: Adobe Flash Player (version 9 or above) is required to play this audio clip. Download the latest version here. You also need to have JavaScript enabled in your browser.
This stands as one of the most transformational performances of all time. It was this concert, a blues segment at 1960 Newport Jazz Festival in Newport Rhode Island, that brought the blues out of smokey basement clubs and into the mainstream. It was recorded on July 3, 1960, exactly 50 years ago today.
As sublime luck would have it, I happened across a pristine copy of this LP, still enrobed in torn, flapping shreds of yellowed shrink wrap, parts of which were intact enough for me to be able to call this LP SEALED. But the timing of this was so right, of course it was going to land here in Jukebox Heart.
This a superb set of live blues. Muddy is backed for the set by James Cotton on harmonica, the great Otis Spann on piano, Pat Hare on rhythm guitar, bassist Andrew Stevenson, and oe of the best blues drummers ever, Francis Clay. The performances are straightahead Delta favored Chicago blues highlighted by an explosive take of "(I'm Your) Hoochie Coochie Man".
The concert was filmed, and although it has deteriorated significantly over time, it's still good enugh to enjoy seeing the man perform live: