Compilations are my favorite things to listen to, and to collect. They are interesting beasts in that the really successful ones succeed as a complete album but are comprised of a sum of often radically different elements. This new Compilation category selects a track from one of the compilations I happen to be listening to at the moment — and there is always at least one in the queue. Compilations tend to get trashed in the press because they generally present such a wide array of music that no single reviewer likes more than a fraction of what is presented. I like these compilations precisely for that reason. This category will only feature compilations with exclusive material.
And so we begin with Keats Rides A Harley.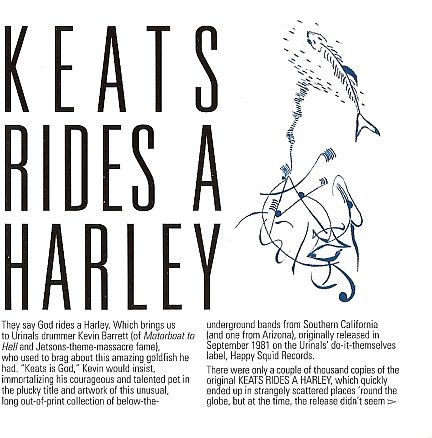 Keats Rides A Harley is a classic. Originally released in 1981 on the Urinals' own independent label Happy Squid Records, this classic Southern California compilation featured some of the top punk and post-punk bands of their generation. Some of them, like the Gun Club and the Meat Puppets from Phoenix left behind a major imprint and influenced dozens of bands who came after them. Others left ghostly traces of their sounds elsewhere and had recording careers of varying lengths such as the Leaving Trains, the wonderful 100 Flowers (a Urinals offshoot), Toxic Shock, and Human Hands. Still others, like S Squad, Tunneltones, and the Earwigs, all but disappeared into myth and folklore. The Gun Club's contributions are early, raw, and utterly superior versions of "Preaching Blues" and "Devil in the Woods." The Meat Puppets' "H-Elenore" is here along with a previously unreleased early cover of Neil Young's "The Losing End," which hints at the direction that the band would go on their classic second album. The Tunneltones featured future Savage Republic boss Bruce Licher on guitar, and this early incarnation of the Leaving Trains had Sylvia Juncosa playing not guitar as she did on her SST debut but keyboards!
The legendary compilation was reissued onto disc in 2005, with the original LP tracks, plus one track from each contributing artist recorded at the original sessions but previously unreleased. As if that weren't enough, also included is the rare five track Happy Squid Sampler, released in 1980 – which is almost impossible to get your hands on. The 14 extra tracks – more music than the original LP material – make it, of course, essential. This is a prize… The track featured is one of the previously unreleased session tracks. Click the arrow below to hear The Gun Club "Preaching Blues"
Audio clip: Adobe Flash Player (version 9 or above) is required to play this audio clip. Download the latest version here. You also need to have JavaScript enabled in your browser.
Below are images from the original LP package…front cover and record label image.