Flexi-Discs. They are those cheesey, chintzy, flexible "sound-sheets" that were inexpensive to produce, cheap and easy to include as promo material in a variety of publications, and which sounded even cheaper on even the best audio systems. But we love them. That's why I'm introducing this new category in Juklebox Heart. While many were mass produced in the millions for advertising or other non-musical purposes, some were also produced in tiny quantities for our outside-music community and are now extremely collectible. That's what we will feature in Flex Your Head! here in Jukebox Heart.
Eva-Tone, the company whose logo appeared on virtually every domestically produced flexi-disc, cornered the market from 1960, when these were introduced, through 2000, when the last one peeled out of their molds.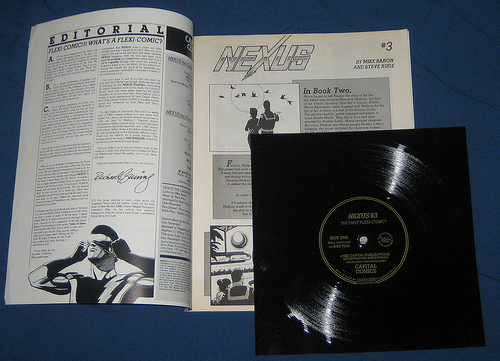 Here is an example of a flexi-disc included with famous comix publication, Nexus.
It appears that the humble flexi-disc may re-emerge as a viable medium for the independent market. Recently, Erika Records, one of the most popular record manufacturers in the US and champion of the indie market, announced that it will resume production of these fabulous flexible records. That's all they say on their website (enter teh site, then click on the "flexible discs" link), so let's not hold our breath until one actually emerges…
Meanwhile, in anticipation of the event, we launch a new category celebrating the flexi-disc on Jukebox Heart with a highly collectible one by artist Mark Lane.
Mark Lane was a pioneer of what we now refer to as "minimal synth", the style of post-punk rock that was based around the earliest inexpensive commercially available synthesizers. His back catalog is part of the genre's canon, and original copies of his work, including the flexi featured here, command hundreds and even thousands of U$D if they become available at all.
This is the holy-grail flexi-disc of Mark Lane, which joined my collection while it was still warm off the press! Click the arrow below to hear "The Reflection".
Audio clip: Adobe Flash Player (version 9 or above) is required to play this audio clip. Download the latest version here. You also need to have JavaScript enabled in your browser.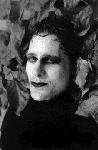 Mark Lane
Lane's work was much better received in Europe than in the US, and as such in the mid 80s he turned his energy toward producing visual art, which is his primary vocation today. But a few years ago, as a result of urges from Dirk Ivens, founder of the Belgian industrial group Absolute Body Control, he returned to the stage after a 25 year hiatus only to find legions of new young fans who had discovered his work through genre-fan websites or his "Anti-Tech Testament" double CD compilation of his work from 1981-1985, released in 2006. And very recently, Vinyl-On-Demand has released a new anthology of his work as well.
A little history of the Flexi-disc is in order. The flexi disc (also known as a phonosheet or sonosheet) is a phonograph record made of a thin, flexible vinyl sheet with a molded-in spiral stylus groove, and is designed to be playable on a normal phonograph turntable. Flexible records were commercially introduced as the Eva-tone Soundsheet in 1960, but were previously available in the Soviet Union as roentgenizdat or bones, underground samizdat recordings on x-ray film.
A flexi disc could be molded with speech or music and bound into the text with a perforated seam, at very little cost and without any requirement for a hard binding. One problem with using the thinner vinyl was that the stylus's weight, combined with the flexi disc's low mass, would sometimes cause the disc to stop spinning on the turntable and become held in place by the stylus. For this reason, most flexi discs had a spot on the face of the disc for a coin, or other small, flat, weighted object to increase the friction with the turntable surface and enforce consistent rotation. If the turntable's surface is not completely flat, it is recommended that the Flexidisc be placed on top of a full sized record.
The Soviet-era bones or roentgenizdat are so-called because one cheap, reliable source of suitable raw material is discarded medical x-rays, which have the added benefit of including ready-made and interesting images. The name roentgenizdat comes from the combination of roentgen ray (another word for X-ray) and samizdat ("self-published", or underground literature). X-ray records emerged as an underground medium for distribution of jazz music, which was prohibited in the Soviet Union after World War II. This format was also particularly attractive to politically suppressed punk rock music and the DIY punk ethic, since other publishing outlets were much less accessible.
A two sided flexible sheet record of the underwater sounds produced by humpback whales was included with the January 1979 issue of National Geographic magazine. With a production order of 10,500,000 copies, it became the largest single press run of any record at the time.
"Flexi Disc" is also the title of a spoken-word track recorded by British electronic band The Human League in 1978. It was included as a free flexi-disc with their groundbreaking Fast records release, "The Dignity of Labour" 12-inch. Included also as a bonus track on the re-release of their album Reproduction, the "song" is an ironic and existential discussion between the band members concerning the advantages and disadvantages of the flexi disc format.
I'm really hoping Erika pulls this off. Look forward to more odd flexible stuff in this new category on Jukebox Heart.
Not subscribed to Jukebox Heart yet? You should! It's easy and it's FREE! Jukebox Heart is also on Facebook and MySpace.