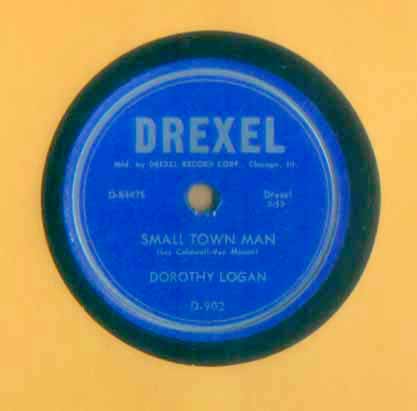 Audio clip: Adobe Flash Player (version 9 or above) is required to play this audio clip. Download the latest version here. You also need to have JavaScript enabled in your browser.
Some fine Chicago post-war blues tonight on Jukebox Heart. In the Big Ten Inch category, we take an old musty 78 RPM slab out of the stacks and play it for you. Click on the arrow above to hear it.
The story of this song begins in early 1950's Chicago with a vocal group called the Gems. The Gems began around 1952, in the Chicago suburb of Evanston, Illinois. The five neighborhood friends, in their early twenties, were: Ray Pettis (tenor lead), Bobby Pee Wee Robinson (first tenor and guitar), David "Moose" Taylor (second tenor), Wilson James (baritone and bass), and Rip Reed (bass).
After a couple of years of practice, they met up with Paul King, one of the owners of Drexel records (at 7319 South Vernon Street). Another partner was Les Caldwell, but there seemed to be a third party, hidden in the shadows. Even the company itself was shadowy. The Gems never saw the company's headquarters, because there never really was one; the address seems to have been that of Paul King. They rehearsed at a friend's house and recorded at Universal Recording Studios, legendary for producing the earliest recordings of the Moonglows and Flamingos.
Considering that Drexel was a small label, it's difficult to tell if songs were recorded at the same session based on the master numbers. Their first four songs have consecutive numbers, so it's possible that they were recorded on the same day. At any rate, the tunes were: 'Deed I Do,' 'You're Tired Of Love,' 'Talk About The Weather,' and 'Ol' Man River.' All four were led by Ray Pettis.
There was a blurb in the trades, dated June 5, 1954 announcing the formation of Drexel. Of course, in true music business style, they also announced that two releases were already on the market. President Paul King was described as a "Chicago businessman" and Les Caldwell (general manager and head of A&R) was 'a former salesman for King', the well established blues and R&B label.
On this later release, the Gems backed up Dorothy Logan on a throaty version of 'Since I Fell For You,' the A Side of this record, competing with the Harptones version [a very weak competitor…] on New York's Bruce Records imprint. This old standard penned by Buddy Johnson would be immortalized in the sixties by Lenny Welch, still in rotation today on many EZ listening stations. On this sexy blues track presented here, Dorothy Logan warns of the perils of bringing your sexy stud hard-workin backwoods boyfriend into the city of slick-chicks and stud-stealing good-for-nothing floozies. It's this song that should have been the A Side!
The Gems themselves were a spectacular group who remained hopelessly obscure because Drexel, like so many currently sought after labels, totally sucked at promoting their records and artists. It wasn't until the first rock n roll revival of the early sixties that collectors really picked up on this stuff. As such, the Drexel releases are exceedingly rare.
Not subscribed to Jukebox Heart yet? You should! It's easy, and it's free. Jukebox Heart is also on Facebook and MySpace.