Another new category on Jukebox Heart. This time, cover versions that are so off the mark that they are just spot on. Ironic? Perhaps. But Irony is the new black. This category will bring us songs remade in the most unlikely of fashions by the most unlikely people. So it's very fitting to kick off this new category with this beautiful find.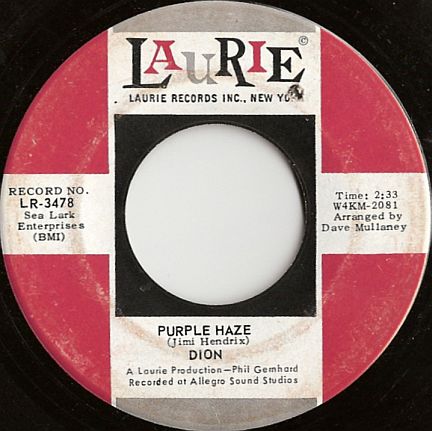 Audio clip: Adobe Flash Player (version 9 or above) is required to play this audio clip. Download the latest version here. You also need to have JavaScript enabled in your browser.
Here is Dion Dimucci, of Dion and the Belmonts. That's right, it's THE Dion. – a staple of Laurie Records – and of his own solo accord as Dion, doing an unrecognizable and unbelievable version of Hendrix' Purple Haze.
Dion, in his solo career, was most famous for his early 1960s hits Runaround Sue and The Wanderer, but he had a whole lot more. His recordings with Dion and the Belmonts are absolute essentials on every 50's rock and roll collection. But as the politics of the 60s heated up and the Beatles began to become more intellectual, the innocence of Dion's signature greaser/doo-wop sound fell way out of favor. Dion's own maturity and political awareness sparked him to record a comeback-hit of sorts, and it's rumored that he kicked a long-term heroin habit shortly before releasing Abraham, Martin and John. One wonders if he fell off the wagon when putting this version of Hendrix' "Purple Haze" however, because there must have been some irresistibly heavy shit being passed around at Allegro Sound Studios the day this was cut. If not for the writing credit under the title, you wouldn't even have a hint it's the same tune. Dion's version doesn't even contain a guitar track – much less a wimpy one. The prominent line here is clearly a flute. A flute? A flute. Not exactly one of my rock and roll instruments of choice. This was a commercial failure, apparently too twee even for the flower children of the day.
Laurie Records persisted into the early 70s, somewhat capitalizing on the doo-wop revival by reissuing all of its early 45s and creating collector edition box sets. Laurie also brought us some other very familiar acts such as The Mystics (Hushabye), The Chiffons (He's So Fine, One Fine Day, etc), The Royal Guardsmen (Snoopy vs. The Red Baron) and even jumped into the British Invasion scene with Gerry and the Pacemakers.
This has made an appearance in various other blogs of mine before, but it's such an important entry in this new category, I couldn't think of any better track to launch this category, other than perhaps Shatner's "Lucy in the Sky With Diamonds", but that's been way overdone as it is. *wink*