…Record of your favorite blues.
Today, another new category launched in Jukebox Heart. These new categories are intended to add some depth to the already diverse music presented and discussed here in Jukebox Heart, and the upcoming months will see a burst of new categories introduced as I continue to spin out my monthly signature hour-plus continuous mix podcasts. But the two most recent categories, this and the recent Lost 45s, have been specifically conceived to celebrate the Jukebox in all its glory. Whereas the 45 RPM record appeared at the dawn of the Atomic Age and the early jukeboxes which housed them exploited the streamlined modern designs, this category, Big Ten Inch, features the 78 RPM disc, the large ten-inch diameter unwieldy fragile discs that preceded the 45 as the vehicle for the single record. These records have received a lot of attention in recent years and have come back into fashion among collectors now that high-fidelity turntables are available equipped with the 78 RPM speed. Back in the early 70s, when I had my first job in a doo-wop collector's record shop in NYC, 78s were largely viewed as disposable and uncollectable, and my boss elected to pay me for my time with box loads of these records rather than the hourly wage I was supposed to be getting. For him it was a coup. He got to clear out his warehouse of "junk" and it cost him virtually nothing to pay me to clean it out for him. And I would happily lug as many as I could carry on the bus home. I've continued o collect these records ever since.
"Big Ten Inch" is the fabulous innuendo taken from Bullmoose Jackson's famous record "Big Ten Inch Record", covered later by Aerosmith. Racy lyrics of the day could have only been published by an independent label:
Got me the strangest woman
believe me this trick's no cinch
but I really get her going
when I whip out my big 10 inch
Record of a band that plays the blues
well a band that plays its blues
she just love my big 10 inch
record of her favorite blues…
…and it continues from there. Delicious. I don't have a copy of this wonderful record on 78, otherwise it would have been most fitting to kick off with that. But when I do obtain one, it will certainly make an appearance.
So we'll start this off with one of my favorite records ever, a gorgeous Chicago Ballad from 1955 by The Orchids: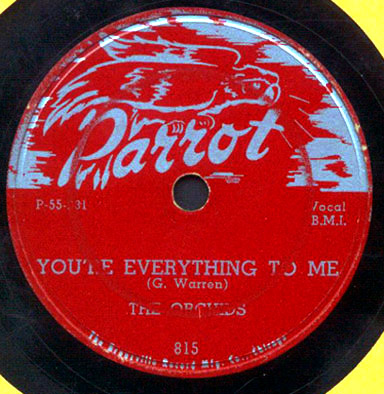 Audio clip: Adobe Flash Player (version 9 or above) is required to play this audio clip. Download the latest version here. You also need to have JavaScript enabled in your browser.
As I said, this is one of my favorite records of all time, on the incredibly rare Parrot label out of Chicago, 1955. Parrot and Blue Lake were seminal blues and R&B labels at the time, owned by Al Benson. Many fine artists got their start or spent the early parts of their careers on this label. Most of the masters were sold to the Chess brothers, and many of the acts went over to chess as well when Parrot folded. For an exhaustive history and discography of Parrot, one of the most important labels in history, go here.
The Orchids, in the eight titles they cut for Parrot, have to rate as one of the best doowop groups to come out of Chicago. All of them were from the South Side. Gilbert Warren was the principal lead and composer; bass Buford Wright wrote and sang lead with the group; second tenor Robert C. Nesbary also played piano for the group. Apparently there was just one more, recalled by some as 'Charles,' because in September, 1955, the group appeared as the Four Orchids on a Benson-sponsored packaged show at the Regal Theater with LaVern Baker, the Spaniels, the Four Fellows, J. B. Lenoir, Lou Mac, and Buddy and Ella Johnson. The previous spring, the Orchids put down two amazing tracks in 'You're Everything to Me', presented here, and 'Newly Wed,' the flipside, which is more rock 'n' roll-oriented.The sax break on this song is one of the best. The band, "Al Smith Group", not credited on the record, consisted of Red Holloway on tenor sax, probably Norman Simmons at the piano, Lefty Bates on guitar, Quinn Wilson on bass, and Vernel Fournier on drums.