While visiting my nephew and his wife in Virginia a few weeks ago, they put on some kids' music and we laughed as we watched my baby great-nephew wiggle and dance to the music. But that voice. I know it. and the buzz rode up in me and nagged at me until my nephew said. "I love this guy's music. He used to be in this band a long time ago, in Boston…" and just as he said the name of the band, it burst out that dark closet in my mind as well. Of course. The Del Fuegos. That's Dan Zanes!
Suddenly, it was 1982 again, at the Inn Square Men's Bar (Ladies Invited!) in Cambridge, where I'd seen the Del Fuegos, along with The Neats, The Lyres, The Turbines, and countless others countless times. That voice is just unmistakable.
The DelFuegos were a staple in the post-punk roots rock revival thing going on back then, and the crowd was distinctively a raucous punk rock crowd. Untold amounts of beer was consumed, to the point of never quite being able to find my car…a blessing in disguise. But I digress.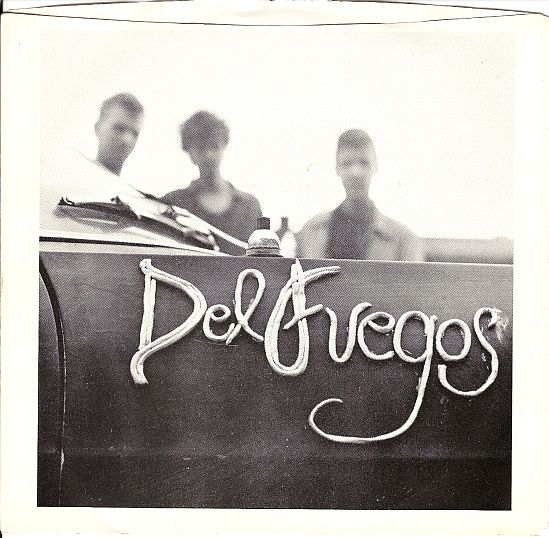 A Side: I Can't Sleep
Audio clip: Adobe Flash Player (version 9 or above) is required to play this audio clip. Download the latest version here. You also need to have JavaScript enabled in your browser.
B Side: I Always Call Her Back
Audio clip: Adobe Flash Player (version 9 or above) is required to play this audio clip. Download the latest version here. You also need to have JavaScript enabled in your browser.
So here is the first single the band put out, for tiny indie label Czech Records. It doesn't appear on their official discography, and only the B Side got reissued in 1993, on the fantastic DIY: Mass. Ave. – The Boston Scene (1975-83) compilation CD. The A Side, presented here, remains out of print. The B Side got considerable airplay on my own radio program.
The Del Fuegos won critical favor and a loyal, if not ravenous, cult following at home and on the road for their passionate, no-frills style. Formed in 1980, the Del Fuegos consisted of guitarist and singer Dan Zanes, his brother Warren Zanes on guitar, bassist Tom Lloyd, and drummer Steve Morrell. They began to gain support outside of Boston with the band's first few low-budget tours. While the Del Fuegos began recording an album for legendary local label Ace of Hearts Records, who are most famous for Mission of Burma, but whose back catalog is just SOLID and is worth your time to research, in 1984 the famed Los Angeles indie Slash Records (who gave us X and The Violent Femmes among many others!) stepped in and signed them, releasing their first album, The Longest Day, in the fall of that year. By now, Steve Morrell had parted ways with the band, and former Embarrassment percussionist Woody Giessmann had taken over the drum kit. The Longest Day's mixture of attitude, guitar firepower, and heart-on-the-sleeve emotion clicked with both critics and fans, and the Del Fuegos seemed poised for a commercial breakthrough with their second album, 1985's Boston, Mass.
While "Don't Run Wild" and "I Still Want You" earned enough radio and MTV airplay to make you crazy and the album received rave reviews, it wasn't the hit some were hoping for, and the more self-consciously hip members of the music world began to turn their backs on the band after it appeared in a widely seen beer commercial. Actually, it wasn't the commercial itlsef, it was the dumbass line "Rock n Roll is folk music cuz…it's for folks!" that sent everyone away incredulously sighing.
The band began reaching for a more ambitious sound and wider musical range on its third album, but 1987's Stand Up received harsh reviews and little support from fans, despite the Del Fuegos' appearance on an extended tour with noted fan Tom Petty (who also guested on Stand Up), in which the group shared the opening slot with the Replacements. After Stand Up's disappointing reception, Woody Giessmann and Warren Zanes both quit the Del Fuegos, and the band was dropped by Slash. In 1989, Dan Zanes and Tom Lloyd decided to give the band another chance, bringing aboard guitarist Adam Roth and drummer Joe Donnelly and cutting a new album, Smoking in the Fields, but while critics were kinder to the new set than Stand Up, the album was a commercial bust, and within a year the Del Fuegos were history.
Dan Zanes went on to a solo career and in time found success with a series of acclaimed children's albums, at least one of which is responsible for me digging up this gem and making this Lost45s entry here in Jukebox Heart.