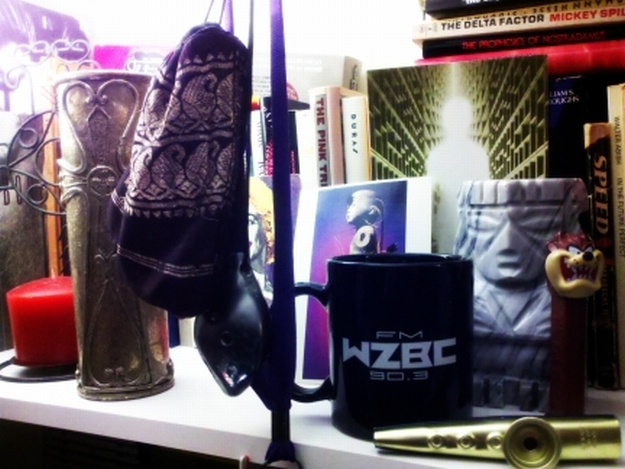 Still Life with Kazoo and WZBC.
Click on the arrow below to hear the program in is entirety.
You can close it at anytime. If you keep this browser window
open, when you click the arrow again, it will resume where it left off.
Audio clip: Adobe Flash Player (version 9 or above) is required to play this audio clip. Download the latest version here. You also need to have JavaScript enabled in your browser.
163.67MB | 2:58:46
Jukebox Heart is guest hosting on WZBC during the winter break at Boston College, filling in for vacationing DJs. It has been five long years since I last operated the soundboard at WZBC, and it took a little while to reacquaint. But I had the privilege of following Susanna Bolle of Rare Frequency, whom I followed regularly as a permanent DJ on WZBC until 2005.
PLAYLIST
Locust – Jukebox Heart (Morning Light, Apollo, 1997)
Zoe Irvine & Helen Douglas – Illiers-Combray Disc 1(Illiers-Combray, Weprodutions, 2004)
Hurray – Selections from I Am My Own Worst Enemy (LP, Modern Claire, 2008)
Brady Cranefield – Backwards (Correlated Rotations, Artspeak, 2005)
Lucky Dragons – Selections from F uxux 010 (7″ single, English Muffin Records, 2000)
IRM – Four Studies for Crucifixion (10″ EP, Cold Meat Industry, 2000)
A-Frames & Climax Golden Twins – New Punk 4(self-titled EP, Dirty Knobby, 2005)
Human Flesh – Meditation and Fears: Th Fourth Day (Songs For The Victims (Of A Decaying Country), EE Tapes, 2006)
Andy Nice – Somebody Take Me Home (The Secrets of Me, Front & Follow, 2010)
A. P. E. – I Haven't Had The Chance (7″ Single, Electric Tones, 1999)
Moloko – Dominoid (All Back to the Mine, Echo, 2001)
Pitchtuner – Hands Up (Wanton Fever, Doxa Records, 2003)
Pastacas – Ing (Dehemardik Datis, Kohvirecords, 2002)
AM/PM – 1 (The End, Dreck, 2003)
Elite Barbarian – Tropic(It's Only When You Get To The End That It All Makes Sense, Front & Follow, 2009)
The Slow Life – Levity (Be Not Afraid, 2008)
Lake – Sudden Whim (Mike & Beth Forever, Lathe cut Box Set, PIAPTK, 2010)
Wand – Oh, Susanna & Dive (Haunting The Stagecoach, PIAPTK, 2009)
Southerly – Selections from Best Dressed and Expressionless (Lathe Cut 2×10″, PIAPTK, 2007)
Casiotone For The Painfully Alone – Selections from STSNC Soundtrack(7″ Single, PIAPTK, 2008)
Gary War – Reality Protest (7″ Single, Sacred Bones, 2009)
Children's Hospital – Selections from Alone Together (CD, Sacred Bones, 2008)
Zola Jesus – Devil Take You (The Spoils, Sacred Bones 2009)
Rothko – Origlio Night time 2000 (1997 And Other Things, download only, 2009)
Rothko – Be Invisible (Eleven Stages of Intervention, Bip Hop, 2007)
Zoe Irvine & Helen Douglas – Illiers-Combray Disc 2(Illiers-Combray, Weprodutions, 2004)
FEATURED RELEASE
Illiers Combray & Helen Douglas, Zoe Irvine
Yarrow, Scotland: Aeolus and Weproductions, 2004

Sound artist Zoë Irvine and visual artist Helen Douglas collaborate to create a richly textured, multi layered soundscape composition (2 CDs: Irvine) and ornately interwoven visual narrative (2 sided concertina book: Douglas), exploring a sense of memory and place. Inspired in the month of May by a week long visit to Illiers Combray, the small town immortalized by Marcel Proust in his epic novel In Search of Lost Time, Irvine and Douglas weave together their own distinct mythologies and reveries; their subjective responses elliptically united by their shared sense of place. It was released as a double mini CD and artist book in 2004 and reworked as a sound walk for the Berwick Film Festival in 2006. This edition of Jukebox Heart is flanked by both recordings played in full at the beginning and end of the show. Below are some page spreads from the book.
FEATURED LABELS
Front and Follow – Recently featured as Part 1 of a label spotlight on Jukebox Heart, tonight's show featured three tracks from the label's catalog. We are very excited about the music coming out of this label and look forward to future relases.
Sacred Bones Records – Based in the Williamsburg section of Brooklyn, this label has an aggressive release schedule with some very choice artists on the roster such as Zola Jesus, Gary War and other less known but astonishing artists. They also have a great reissue series happening as well, and almost all of their records begin their lives as specially packaged editions, so you have to act fast…
People In A Position TO know – Just as the label name says, you sorta have to be in that coveted spot to obtain his releases. Run by a guy whose budget should only be as big as his heart, Mike Dixon. His label specializes in super-limited run (we're talking sometimes as low as ten copies…) handmade releases in lathe cut format on the most unexpected media imaginable. You really have to see it to undertand it. We featured a recent release of his a few months ago, and a follow-up article focusing on the rest of his label will follow soon as well.
FEATURED ARTIST
Rothko's Mark Beazley announced earlier this year that Rothko will cease its activities. For 13 years Rothko has produced some of the most divine and graceful music, so it would be all too selfish to lament this announcement rather than to express appreciation for all the gorgeous music left behind. Throughout the show tonight we listened to tracks from Rothko and from the current projects of other Rothko members. Next time Trace Recordings, a label established in 2003 by Mark Beazley, will be among our featured labels.