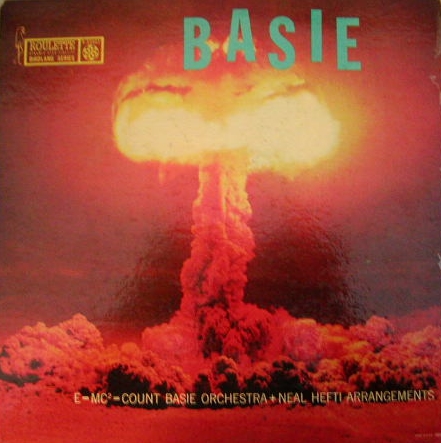 Audio clip: Adobe Flash Player (version 9 or above) is required to play this audio clip. Download the latest version here. You also need to have JavaScript enabled in your browser.
Count Basie – Midnite Blue
[Basie E=MC² LP, Roulette Birdland Series, 1957]
I spotted this recently at a tag sale, grabbed it, and said this is going straight to Jukebox Heart. An early release in Roulette's Birdland Series, plus that cover image! WIN. Sunday morning at Jukebox Heart means strong coffee, lazing around with newspapers everywhere, and old jazz records like this going round and round.
This is the original LP, also known as "The Atomic Basie," and reissued on CD as "The Complete Atomic Basie"; the reissue CD contains five bonus tracks. The personnel on the album are:
. Wendell Culley — trumpet
. Snooky Young — trumpet
. Thad Jones — trumpet
. Joe Newman — trumpet
. Henry Coker — trombone
. Al Grey — trombone
. Benny Powell — trombone
. Marshall Royal — reeds
. Frank Wess — reeds
. Eddie Lockjaw Davis — reeds
. Frank Foster — reeds
. Charles Fowlkes — reeds
. Count Basie — piano
. Eddie Jones — bass
. Freddie Green — guitar
. Sonny Payne — drums
. Joe Williams — vocals (track 16)
. Neal Hefti — arrangements
Time for another cup…