I pulled this gem from a 99-cent used bin at Newbury Comics the other night, and was iterally jumping up and down. I went to play it on the listening station and had a few of the clerks dancing in the aisles with me. Joe Houston, aka "The King of Sax", still alive and kicking, was one of the hottest R&B acts in LA, and eventually nationally, in the early 1950s. Originally issued in 1955 on his home label, RPM (a sister to Crown Records), the name was changed from "Blows All Night Long" to what you see here. Just a bit suggestive, perhaps? Anyway, this is still a very collectible record, and now has a very appreciative home… *smile*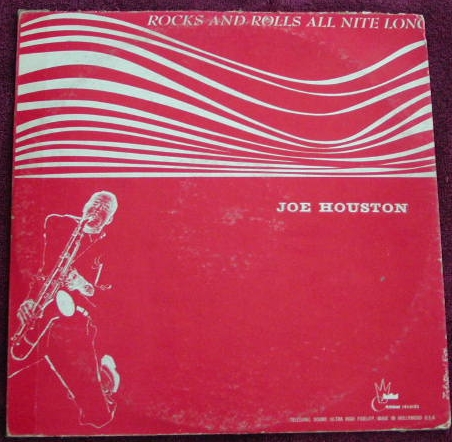 Joe Houston is a honking R&B saxman of wallpaper-peeling potency who recorded for virtually every significant independent R&B label in Los Angeles during the 1950s. When the jump blues style faded, he segued right into rock & roll, even cutting budget "twist" and "surf" albums for Crown that didn't sound very different from what he was doing a decade before.
Houston started out playing around Houston (Texas, that is) with the bands of Amos Milburn and Joe Turner during the late '40s. It was Turner who got the young saxist his first deal with Freedom Records in 1949. Houston found his way to the West Coast in 1952 and commenced recording for labels big and small: Modern, RPM, Lucky, Imperial, Dootone, Recorded in Hollywood, Cash, and Money, as well as the considerably better-financed Mercury, where he scored his only national R&B hit, "Worry, Worry, Worry," in 1952.
Houston's formula was simple and savagely direct — he'd honk and wail as hard as he could, from any conceivable position: on his knees, lying on his back, walking the bar, etc. His output for the Bihari brothers' Crown label, where he was billed "Wild Man of the Tenor Sax," is positively exhilarating: "All Nite Long," "Riverside Rock," and "Joe's Gone" are herculean examples of single-minded sax blasting. You can sample each below by clicking on the arrows below.
We got this in a little late for a "Jukebox Saturday Night" but it's included there as well. But this is what made me scream this week. What makes *you* scream??
Riverside Rock
Audio clip: Adobe Flash Player (version 9 or above) is required to play this audio clip. Download the latest version here. You also need to have JavaScript enabled in your browser.
Joe's Gone
Audio clip: Adobe Flash Player (version 9 or above) is required to play this audio clip. Download the latest version here. You also need to have JavaScript enabled in your browser.
All Night Long
Audio clip: Adobe Flash Player (version 9 or above) is required to play this audio clip. Download the latest version here. You also need to have JavaScript enabled in your browser.
Not subscribed to Jukebox Heart yet? You should! It's easy and it's free. Jukebox Heart is also on Facebook and MySpace.